Journal Entry:
Thu Sep 20, 2012, 8:09 PM
First of all, the video coverage I have from the con:
      Now for this journal...This took forever to do, but I finally completed it! And since it has not yet been a month since C&E, I can still legitimately post this, so there.
Last month, I had the pleasure of attending Cos & Effect 2012! Here's my overview of what happened:
Friday
- Flora Reinhold,
Professor Layton
     I got there early for miss
SecretAttire
's birthday gathering. While walking through the campus (since it's a university campus where C&E takes place), I ended up freaking out quite a few university students - British Style. At the gathering, I got to catch up with
KingdomZelaybli
and
Myelix
, who were my Luke and (surprise) Layton ( I was seriously so excited to see them again that I was tearing up). I gave
SecretAttire
her gift, received a very sweet gift from
Sparks-McLain
and then just hung out there until the con actually started.
     Having an actual cosplay group was a lot of fun! This was my first time coordinating cosplays with more than one person and it was a total blast. I was also really lucky to actually end up with two three-person groups for the weekend as others who I had originally tried to organize stuff with ended up canceling on me. I really hope that I'll be able to have larger groups like this from now on, it really enriched the cosplay experience. We got to make references all day, we ended up being more recognizable than we would have been had we gone solo and posing was more exciting. I remember I had wanted to cosplay Flora a while ago, but I felt that I'd need a group to pull it off, since she isn't so recognizable on her own. At the actual con, most people saw my Luke and Layton first, and then noticed me last, which was sweet because they'd totally freak out. My Layton group and I (or the "Laytonians", as we ended up calling ourselves) had a lot of fun linking arms as we walked around (or in my case, just grabbing onto Layton's arm, in true Flora fashion), saying things like "oh my gosh, puzzles are like, totally the best, I like, totally
love
puzzles" in Lumpy Space Princess voices and just overall getting to chat about our love for the games.
     As for actual events, my group, containing
KingdomZelaybli
,
Myelix
,
Fantasyrhia
and a few others who periodically joined us, attended the
My Other Me
panel, since
SecretAttire
is one of the subjects of that documentary. As the self-proclaimed "Lilly Fanclub", we grabbed front row seats and cheered as loud as we could every time Lilly said something, while holding up signs (which I had made).
rifa
, who was acting as MC for the panel ended up calling us "The Peanut Gallery."
     After the panel was photoshooting in front of the super Layton-esque building by the clock tower. We got some good shots, even though we'd lost most of our light by that point.
Saturday
- Maya Fey,
Ace Attorney
     Saturday was a total blast! I started the day off by listening to Ace Attorney music on the car ride to the convention centre (for the win). My mom walked me to the con that morning and was really cute pointing at people and saying "that's Homestuck" "Homestuck!" "Oh! That's Homestuck!".
     After meeting up with the gang, I spent the morning playing photographer, first for
SomebodyKuma
and his family, who were wearing their Umbrella group cosplays together. SO awesome! Then I went to photograph
SecretAttire
and
Cosplay-DnA
in their Naruto and Kakashi cosplays.
One thing I can say about Lilly when it comes to photoshoots - total. Derp.
Love you, Lilly. Getting to meet
Cosplay-DnA
was great, they are both such talented cosplayers and we had a fun time chatting while Lilly was busy derping around and chasing random things.
     By the end of the photoshoot,
SomebodyKuma
had returned in all of his Phoenix glory
THE PHOENIX ROSE!
I seriously had a total freak out when I saw his wig and Ami urn; I spent a good two minutes running around shouting "OH MY GOSH THE WORLD IS BEAUTIFUL, THE WORLD IS SO DARN BEAUTIFUL. COSPLAY IS BEAUTIFUL. MY PHOENIX IS BEAUTIFUL. THE WORLD IS BEAUTIFUL." ...Or at least something along those lines. Then I proceeded to do
Fantasyrhia
and
SomebodyKuma
's makeup; I know that doesn't sound too funny, but it was seriously hilarious. They were both sitting side by each as Edgeworth and Phoenix and I went down the line doing their eyeliner (and trying to get them to quit blinking while I did so) and eyebrows. Like all sidekicks should. Heck yeah.
     Then the group of us, consisting of
Fantasyrhia
(who's Edgey cosplay came out SO well, even after all of the doubt she had instilled in me with her panicked freaking-out-over-all-the-cosplays-needing-to-be-done-for-the-con-next-week phone call - kudos, my friend, major kudos... Also DAT PONY BELT),
SomebodyKuma
(who I have gushed over enough already... Ok, maybe I haven't),
Myelix
and
KingdomZelaybli
(who, oh my goodness, were the most epic Aranea and Meena ever you guys are such superstars and I have missed you so much) got our stuff together and had lunch before diving into our con activities for the day.
... Our lunch looked a little like this: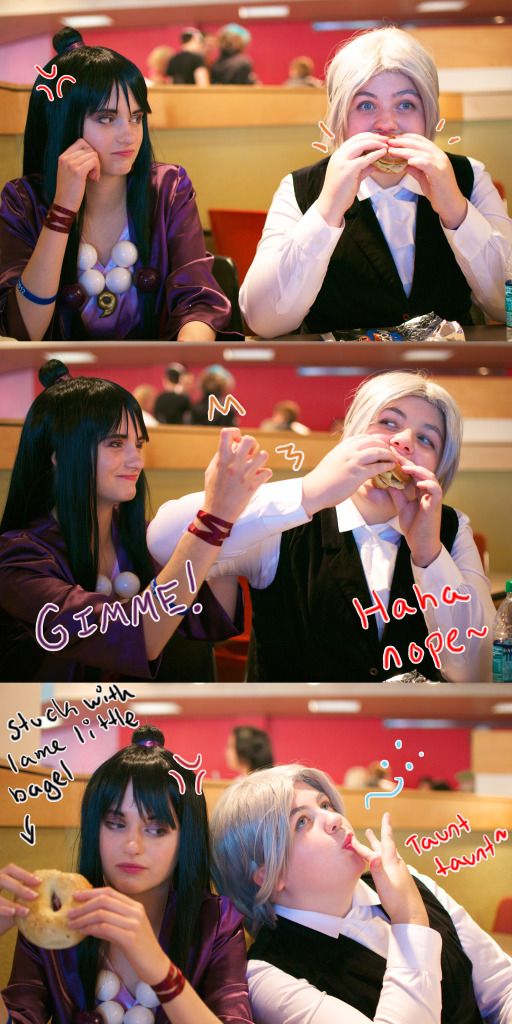 A lot of the day was spent getting our photos taken (thinking back, I seriously can't recall any actual events we attended during the afternoon). Seriously, Ace Attorney cosplay = best choice EVER.

Not just because I am head-over-heels in love with this series, but also because of how many people ended up knowing who we were. These ended up being the cosplays that caused us to kick mobility to the curb since we ended up getting stopped for photos after every few steps we attempted to walk. It was absolutely amazing. While few people actually play the games anymore, most people have played the games at some point (plus with the live action movie and PL crossover game, it's making a comeback), so plenty people were excited to see us. I thank everyone for their tremendous support and super sweet comments, the fact that our cosplays were so well received really made my day, as well as my partners'!
(We, as well as our Homestuck buddies, were also filmed for this video!:
www.youtube.com/watch?v=fPUNeu…
)
     The other thing about cosplaying from Ace Attorney was that we ended up being unique as well as recognizable (which is a very rare combo). Unique cosplays are always fun, especially when you can be so widely recognized at the same time! It also made running into other AA characters more exciting, since we were so few in number! There ended up being a clean 3:3 split between Phoenix Wright and Apollo Justice. I spotted an adorable adult!Ema in the Artists' Alley; she was so sweet and just as excited to see us as we were her. Same with the Apollo we found!
     Another big chunk of the day went to filming; not only with the mini-documentary I made, but also with the AA video we filmed! We'd been planning this for a while (well, Chels and I, at least, but Erik was totally game for it too)! We ended up having a blast filming it!
     I ended up seeing many of my friends that day (every con just becomes more of a love fest each year with all the people I end up getting to know). I saw miss
hikari-twilight
(who is AWESOME) and miss
Rydia-Mist
(who is ALSO AWESOME, and who I
finally
got to chat with after a whole year of meaning to).
     Then we attended the CMV contest and boy, was that a jumbled experience. We ended up going for a few photos to pass the time while they were
supposedly
setting up for the contest, but then when we returned, we learned that it had already happened and that they weren't actually setting up when we thought they were. But on the bright side, there were only four CMVs, so we didn't miss out, and, as it turns out, our entry ended up winning second place! (It was
LifeAsAnArtist
' "We Are Young" CMV
www.youtube.com/watch?v=NCKYt1…
that we were there to claim the prize for - way to go, Shimada!) When claiming the prizes, we got to chat with
twinfools
! He said that he was really impressed by the video, which was amazing to hear. He's really down to Earth and really nice to converse with; I also got my photo with him! Needless to say, that was a real highlight of the day.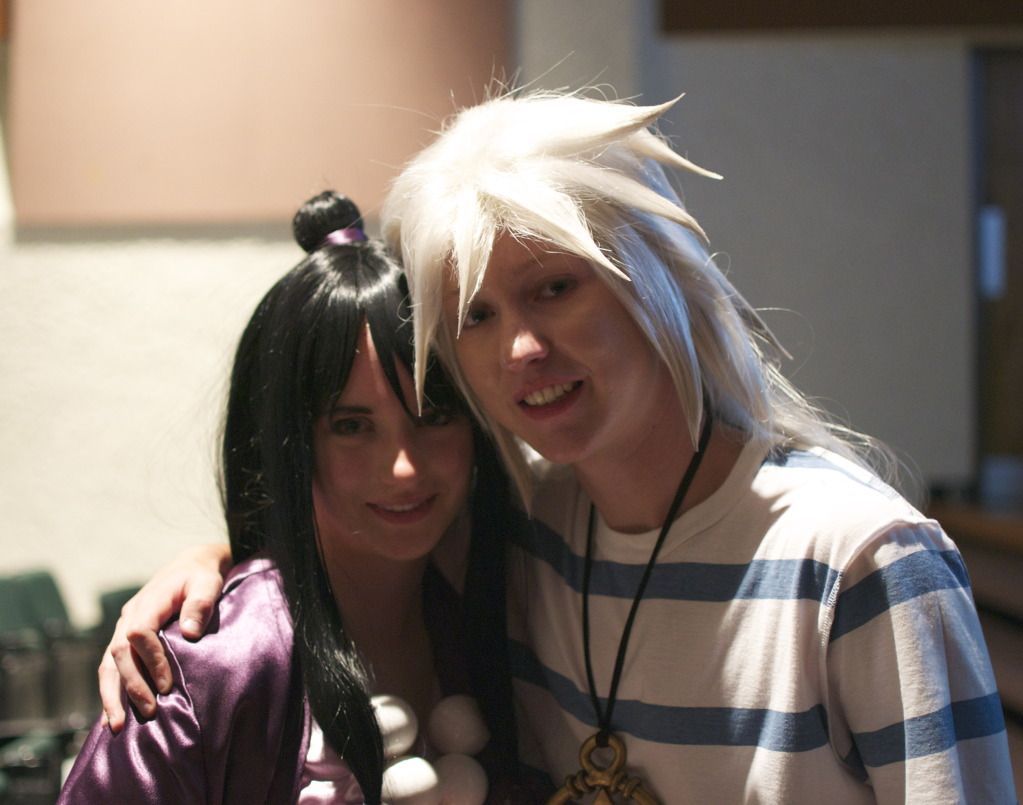 As for the photoshoot we had, that included
Myelix
,
KingdomZelaybli
,
Fantasyrhia
,
LuchtBreath
,
SomebodyKuma
and a Jade Harley cosplayer that
LuchtBreath
was hanging out with. Here are some of the results: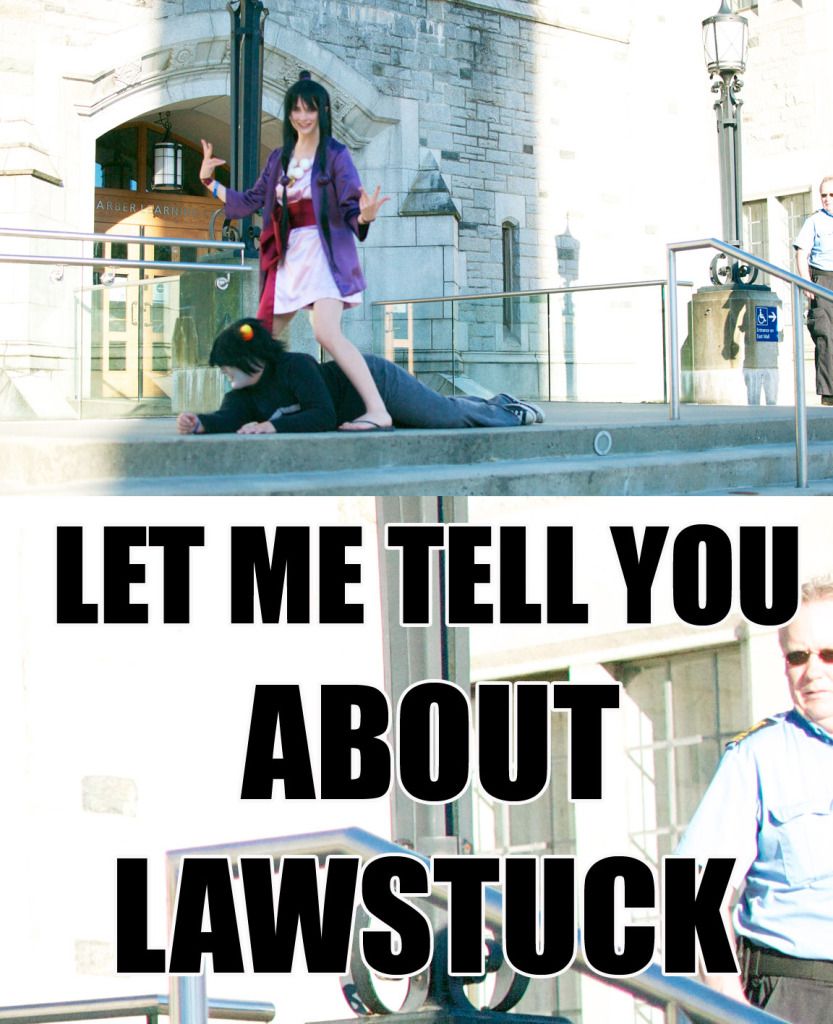 True facts, yo. XD After that, I photographed our Homestuck companions:
     Later that evening,
Fantasyrhia
,
Myelix
,
KingdomZelaybli
,
LuchtBreath
and I went to a nearby Chinese restaurant for dinner - in full cosplay. There was literally no one else in the restaurant, it was hilarious! It was also really fun getting to dine with my friends rather than with family.
Sunday
- Simon,
Tengen Toppa Gurren Lagann
     Sunday was, in all honesty, a bit of a drag. There were very few people there and everyone at the con was exhausted. I got to hang out with
Lupinine-Reiji
and
FangedFirebreather
after
Fantasyrhia
left. I also got to photograph
hikari-twilight
; she was being attractive, as usual.
And after that, I got to see and photograph
Anonosity
, who looked mighty fine as Godtier Jade!
Then we went to the Cosplay Idol competition to see
hikari-twilight
perform, but I unfortunately didn't get to see her perform since I had to leave.

      What I took away from Sunday's experience was a very valuable lesson. I think Sundays should be treated exclusively as shopping days (unless there are any actual panels that day). Only wear a simple outfit, rather than a complicated one that you actually prepped for that day (I put a lot of work into Simon just for Sunday, originally for the skit we didn't actually get to perform, but the fact that Sunday was low-energy took some of the fun out of wearing it). That way, no matter how Sunday goes, you won't end up disappointed, since Sunday can go either way. If it goes well, then bonus, if it doesn't, well it was just a simple shopping day anyway.

That was my C&E experience! Overall, a fun con!

And since the con, the photo of Erik and my Ace Attorney cosplays as well as a photo of my Layton group was featured on Cosplay In America's Twitter! *Faints*
falcona
also featured our Layton cosplays on his blog (
cosplayweek.blogspot.com
<-- go check it out, he does a great job)!
So what now, Anya?
     Ok, I'm sure none of you are actually asking that, but whatever. Right now I'm getting through the con drought by working on a new Homestuck cosplay and a couple of Ace Attorney cosplays, one of which will be a collaboration with
SomebodyKuma
while the other one I keep debating whether or not to actually do. Erik (Kuma) keeps trying to convince me to just go for it... So I probably will, I'll just feel real strange being that character. XP
That's all for now! Thanks for all the amazing comments, everyone!
~AP

Reading: French vocab
Watching: DIY Network...
Playing: Phoenix Wright Ace Attorney: Justice For All
Eating: Chocolate

Watch

ALL THE CUTE O HNO

I CANT HANDLE IT AAAAH

ALSO IM REALLY SORRY I HARDLY TALKED TO YOU ; O ; omg ,,, aah

i had a headache from my wigcap so i didnt really feel all that social-y ogmajskla

you were

so

cool

i cant
Reply

YEAH YOU'RE WAAAAY TOO CUTE TO HANDLE <33

IT'S OK, I THINK WE HAD A PLEASANT CHAT REGARDLESS! ;3

That's ok, don't worry about it - we'll just have to work on getting you over to Tsukino-Con so that we can hang out in all of our pending possibly troll Homestuck group glory. ;D

O///O

oh

my

gosh

no

you <33
Reply

kljfdlafjlaj s O ARE OYU YOU SUGOI SENPAI

NOTICE ME SENPAI

but yes oh my god ONE DAY I REALLY WANT TO GO TO TSUKINO IM GONNA DO IT IM GONNA MAKE IT HAPPEN ONE DAY HOPEFULLY MAYBE,,,,,,,,,,,,,,,,,,,,,,,,,,,,,,, WIPES TEAR FROM EYE </small>did you just say troll</small>oh my god now i really really want to go
Reply

WOW!!! Impossible to make a better coverage than this one that you did!!!
Reply

I liked the video. I think I need to find a character that would be simple to make a costume and go to a cos-play sometime.
Reply

Thanks, glad to hear it! I think that's a wonderful idea!

It's a lot of fun, and there are plenty of easy characters to choose from.
Reply

this is true, i have a lot of shows I like and could make some cool cosplay costumes. I got an idea from a sonic the hedge hog hat I've got, it makes a good template for making Super Saiyan hair

Reply

OH YOUU!!! >///////<
You're the attractive and pretty one here~~
I'm so glad to have gotten the chance to see you again as well~~
I will do my best to see you at Tsukino con!!! 8'D
LOTS OF LOVE~
Reply

NO YOU ARE~~~ <333
Yes please do! It would be wonderful to get to see you again this year!
RIGHT BACK AT YA~

Reply

Aw I'm really glad you liked your present! I was all 'goddamn I'm poor' when I was looking around XD;

But seriously, two words: Anime Evolution. And it's in November so it's going to be my Yukai Con replacement for the year~
Reply

I really did! Thank you again!

Aw that sure will be fun; I wish I could go, but I don't think that will happen. Let me know how it goes!
Reply

Oh man, I was actually really happy to see you there! The My Other Me panel was pretty great to be honest! I can't wait to see what other cosplays you have planned! Also if you have any word on that cosplay group you mentioned for Tsukino Con, I have a cosplay all planned out for that so if you still want me I'd be happy to join!~
Reply

Haha 'actually'? XP I was really happy to see you too! We hardly see each other, so chatting for more than our usual 30 seconds was awesome!

It really was! We were so special that Rifa gave us a mass pet name! Now that was impressive on our part - Lilly must know how much we love her now. XP
And I can't wait to reveal them! (Goodness, one of them sure will be a big change for me... ><; )
You mean for out skit?? Awesome! :'D We're always happy to have you, so just keep me posted! <33
Reply

Lmao yeah! Ahaha, forever known as the peanut gallery! She definitely knows how much we love her. That night she STILL couldn't believe that happened ahaha.
Ohhh a big change? That should be interesting to see!
And yes! The skit! I have that cosplay 100% done, so yeah!
Reply

Reply

BEAUTIFUL BUBBLY BLUE BOYS BABY!

Reply